Improving our myTAL customer portal
We've made some improvements to our customer portal, myTAL, designed to make things easier at tax time. Customers can now download their S290-170 statements directly, providing them what they need, at the time they need it.
This update is just the first in a series of upgrades planned for the myTAL portal.
How your customers can download their statements
Register their myTAL account
Once logged in, click on the "Request a statement" page
Select their policy from the drop-down list
Select the statement "ATO Financial Statement" from the drop-down list
Click download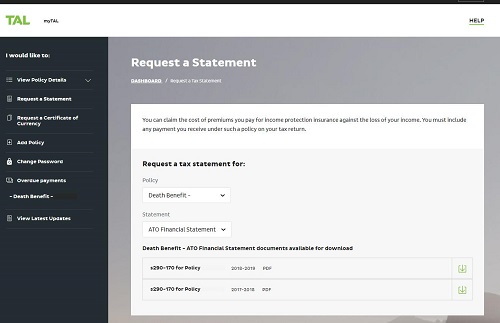 Please note that S290-170 statements are only provided when the policy is owned by TAL Superannuation Limited or Mercer Superannuation, and the customer has made personal superannuation contributions during the financial year. Statements are also only available after they have been posted to the customer.
Customers can access and download up to three of their most recent S290-170 statements at any time, including the Notice of Intention to Claim a Tax Deduction form.
If your customer would like to access a statement that isn't available through the myTAL portal, or if they have any questions, we welcome them to contact our friendly team on 1300 209 088, or email customerservice@tal.com.au.