Accelerated Protection Income Protection
Cover that helps get your clients back to living the lives they love
TAL Adviser Centre
Register as an Adviser with TAL. Raise new quotes, search for clients, access product information and more.
Login to TAC
Key Features
Three levels of flexible cover
Generous pre-disability earnings definition

Critical Illness and Retirement Protection Option
Balancing versatility and affordability is key to helping your clients access Income Protection. And it's exactly how we've designed our product, with three different levels of cover, each with their own particular features. 
Helping customers get back to the lives they love as quickly as possible is another big part of what we do. IP Premier cover includes a part-time work allowance, so they can return to work for up to 10 hours a week and still receive their full benefit. And with our critical illness option, benefits are paid in addition to any total or partial benefit, so you can be confident your client is being looked after.
Our Income Protection Standard and Premier cover offers options to meet your client's needs and circumstances:
Indemnity or agreed value contracts
Increasing claim option
Business Expense option
Accident Benefit option
Retirement Protection option
Critical Illness option 
With three levels of cover available and a host of industry awards to its name, TAL's IP provides comprehensive, flexible cover and great value.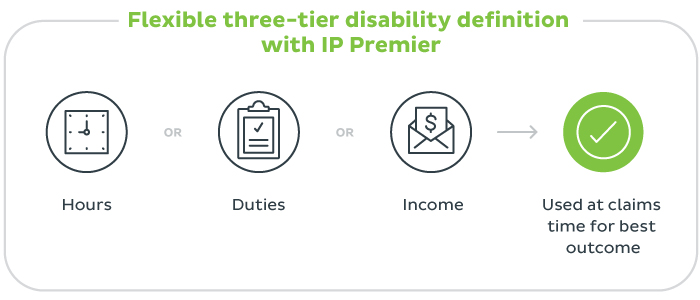 Flexibility, innovation, great value
How our award-winning Accelerated Protection works for you and your clients

Designed for flexibility
Mix and match a range of products and features to best suit the needs of every client.
Simple rewards for healthy clients
Clever features like our popular Health Sense discount.
We're there when it matters
Every working day we pay an average of $5.3m in claims.
For a summary of the Accelerated Protection Income Protection insurance product, download a client fact sheet.
Recognition for our excellence in product and service support