Step inside TAL Risk Academy's Virtual Masterclasses
As our industry continues to change, the TAL Risk Academy is continuing to evolve to help you navigate your education journey with confidence and feel prepared for a strong future in advice.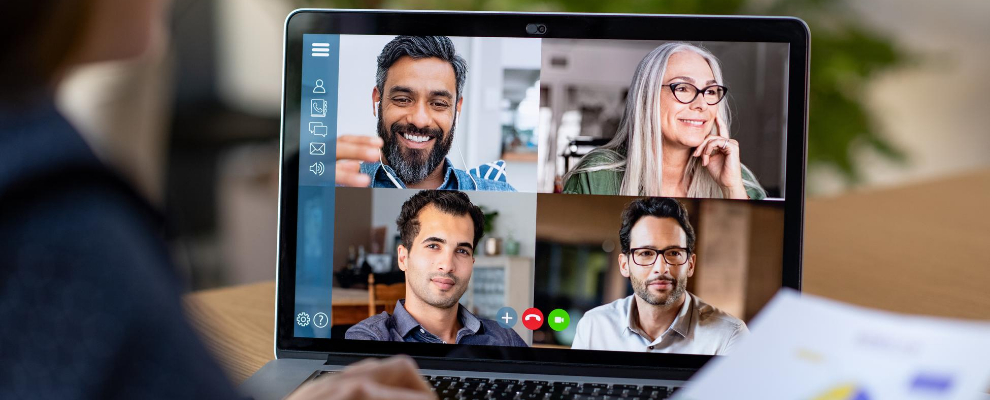 TAL Risk Academy has evolved to offer online delivery of our masterclasses, so you can continue to access leading education in a digital world.
We sat down with Scott Hoger, National Technical Manager, for an insight into our Virtual Masterclass series and discovered a flexible and accessible learning environment.
Why the transition to online delivery for Risk Academy Masterclasses and how does it differ from face-to-face?
Whilst Covid-19 was the stimulus for the creation of our Virtual Classroom Series, we quickly saw that evolving the online suite of courses would provide greater access to our curriculum and support advisers to learn in a self-directed way. 
Our flagship FASEA Exam Masterclass is available multiple times throughout the month and runs across two consecutive days. The three-hourly sessions enable you to schedule learning around your work or home office commitments and allows for concepts to be embedded by the following day.
Following the extension of the FASEA Exam deadline to 1 January 2022, we've expanded the number of FASEA Exam Masterclasses through to the end of the year. We're also hosting an updated Essentials Workshop, along with an Income Protection Masterclass – offering a comprehensive suite of courses across educational categories.
We create a sense of community in our online classes – recognising the value that face-to-face brings. By limiting our online class numbers to 100, our sessions are interactive and conversational, using facetime and online tools to facilitate conversations with presenters.
What can you expect when attending a Virtual Masterclass?
We provide course learning materials in advance, allowing you plenty of time to prepare. All you need prior to the session is a reliable internet connection. We'll take care of the rest!
Presenters remain visible throughout the masterclass, and you can ask questions at any time. A popular feature amongst participants is to ask questions via the chat function. Once you send your questions through, we answer them as they appear in the chat bar. Our Virtual Masterclasses are structured to be as interactive as possible, so we welcome your questions and feedback.
After the session, you will be provided with the course presentation slides as well through the Virtual Masterclass' training record page on the Risk Academy LMS.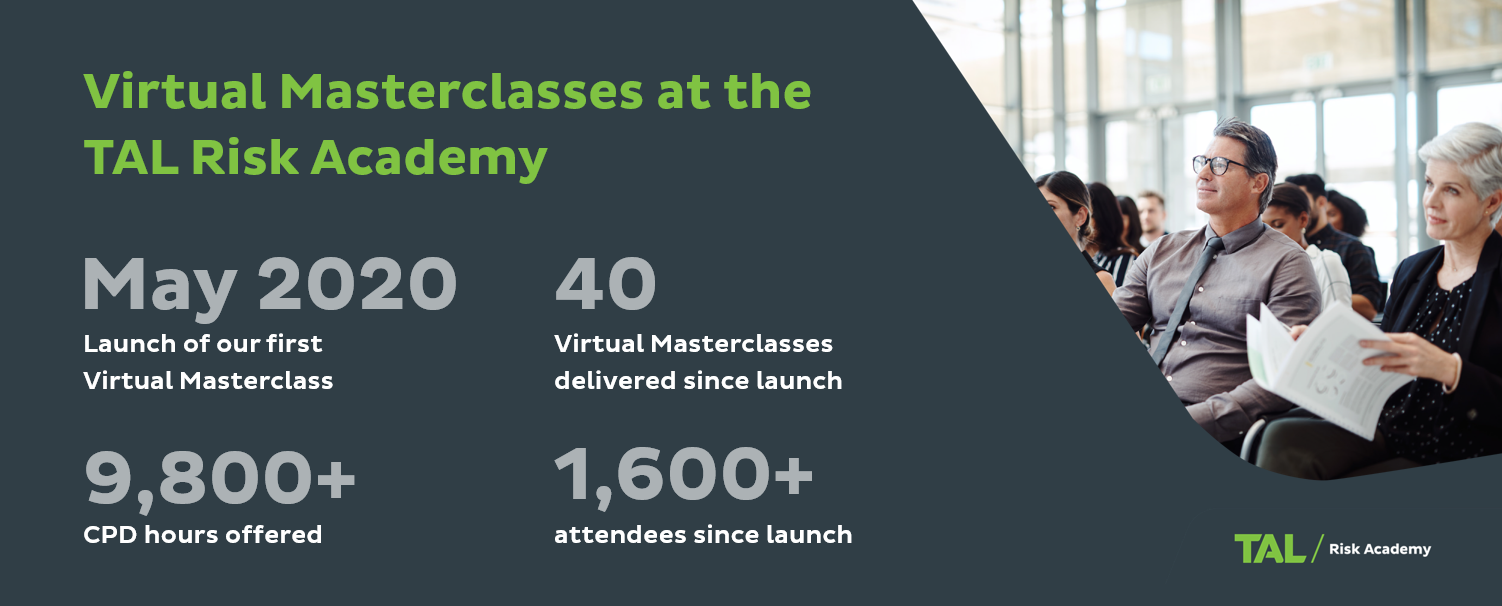 What is the most common feedback received about the Virtual Masterclass method of course delivery?
Positive feedback is often received from participants in regional locations. Now they can access our masterclasses with ease, without having to travel long distances. Our masterclasses also cater for a wide range of skills and levels of experience in our attendees. Participants are encouraged to ask questions and contribute regardless of their level of expertise. 
How do you register for a Virtual Masterclass?
To access any of our courses between September and October, click on the links below:
Essentials Workshop - Virtual Classroom:
FASEA Exam Masterclass - Virtual Classroom:
7/8 September
15/16 September
17/18 September
21/22 September
24/25 September
Income Protection Masterclass - Virtual Classroom:
To enrol for courses, you need a TAL Risk Academy login. Don't have one? Register here.
If you have any questions, please reach out to your local Sales Development Manager. 
The information contained in this article is general information only, and is not intended to be legal, taxation or financial advice. TAL Australia, its subsidiaries and its representatives have not taken into consideration any individual's personal circumstances, financial needs or objectives. If any person is intending to act on the information contained in this article, consideration should be given to the appropriateness of this general information in the light of that person's own objectives, financial situation or needs before acting on the information. Persons acting on any matter covered in this article should seek independent professional advice on the application of that matter to their individual circumstances.
In relation to any financial product referred to in this article, a copy of the Product Disclosure Statement should be obtained and read prior to making any decision regarding the acquisition that financial product.